GWC Squash House is a year-round facility allowing players of all levels the opportunity to find matches, test their skills and learn from our established team of professionals. The Squash House offers three single Anderson Courts and one North American doubles court, locker rooms, a pro shop and social spaces. Members may enjoy a match with friends, hangout to watch the next match then head to the GWC Clubhouse for lunch or dinner. 
Spring Squash Program (3/20-5/26)
We are excited to announce our programming this Spring at the Squash House. Clinics are outlined below – please reach out to squash@greenwichwaterclub.com for more details.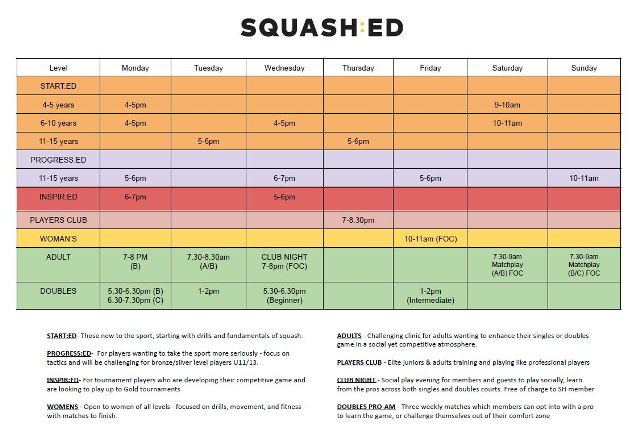 All cancellations made within 24 hours before the scheduled lesson will be charged in full.
Squash memberships are available, contact Michael Wieneke to inquire about options.
Squash:ED programming includes clinics, private lessons, camps and club tournaments. To sign-up, email Phil Barker.
Pricing
| | |
| --- | --- |
| 60 minute clinic (Junior & Adult)  | 60 |
| 60 minute doubles (fill in by a pro) | 100 |
| 60 minute private lesson: Phil | 240 |
| 60 minute private lesson: Paul  | 200 |
| 60 minute private lesson: Sergio / Fabian | 180 |
Junior Program. In order to optimize growth and performance, our SQUASH:ED coaching focuses on player development to the finest detail, enhancing the chances for every squash player to achieve their potential via thorough and cutting-edge training methods. Our program is unique in that it puts the player first; every stage of development is tailored for optimal growth with reference to technical skills, psychological maturation and cognitive development, emphasizing the importance of using the appropriate training methods that are adapted to each student's individual long-term goals.
Adult Program. GWC has always understood community. We have built our other core programs with membership in mind and our squash program is no different. We carefully craft matches, programs and tournaments that allow members to compete at their desired level in a judgement-free safe space, welcoming all levels of intensity and experience. We host championships on both the singles and doubles courts, as well as various Pro-Am social events. The Pro-am events attract top professional from around the globe. Whether you are an experienced player or new to the sport, we aim to build something fun and engaging for every level.