Clubhouse Main Dining Room, Tap Room and Open-Air Patio
The Clubhouse serves lunch and dinner, Tuesdays through Sundays. Dinner is served 5:00-8:00pm during the week, 5:00-8:30pm on Friday and Saturday. Reservations are required (203-661-4033 ext 226). No walk-ins please. 
GWC continues to offer to-go meals for curbside pickup. As an exception to our policy, to-go orders (excluding tip) will be applied to your minimum.

Lunch to-go is available 11:30-3:00pm 
Dinner to-go is available 5:00-7:00pm, to-go orders are required to be placed by 6:00pm on Friday, Saturday and Sunday.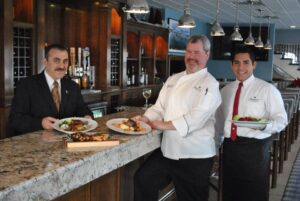 GWC is delighted to showcase the culinary talents of Executive Chef Todd McGarvey. Chef Todd has been creating elegant affairs for local country clubs and executive events for 20 years. Clubhouse Manager, Andre Bouchahine, has over 30 years experience in the restaurant and club industry. Along with a professional and seasoned service staff, they create memorable and distinct personalized events.
Planning a private party? Click here for details.